Moisture Potting Mix
C-I-L® Moisture Potting Mix simplifies your container gardening, allowing you to spend less time worrying about over- and underwatering your flowers and vegetables. This growing medium is an improved formula you can rely on for beautiful results. 
Premier Tech's peat moss comes from bogs that are certified under the Veriflora Program. This certification ensures the application of good management principles in all aspect of sustainable development. The criteria include environmental assessment, social engagement and product quality. 
Information
How to use
Tips
Safety
Application Rate
Specs
Information
Size
7.5 kg (25 L)
Benefits
Improved formula suitable for vegetables
Improved extended feed – up to 9 months
Over/under watering protection
How to use
How to use
Line the bottom third of the pot with this product.
Center plant on top, fill with this potting mix (leaving about 2 cm from the top).
Water to moisten soil.
Tips
Tips
Pre-water the plants before transplanting. Heavy feeders, such as annuals and tomato plants, may require occasional fertilizer applications.
Apply during the growing season.
Water generously.
Safety
Precaution
Keep out of the reach of children and pets.
Storage
Keep well-sealed.
Store in a cool, dry place, out of direct sunlight.
Application Rate
Quantity calculator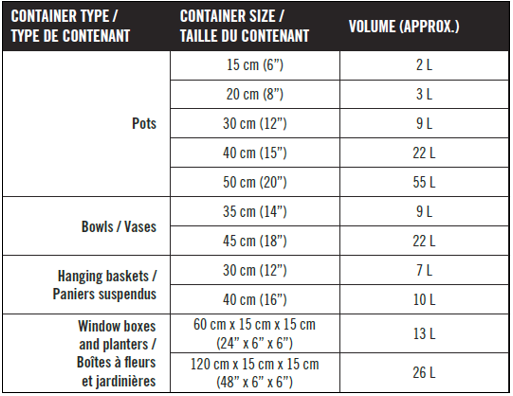 Specs
UPC
0 58262 80504 8
Safety data sheet
Packaging
Guaranteed minimum analysis
Total nitrogen (N): 0.07%
vailable phosphoric acid (P2O5):  0.07%
Soluble potash (K2O):  0.07%
Organic matter: 40%
Maximum moisture: 65%
Components
Canadian sphagnum peat moss, perlite, lime (for proper pH balance), coco fibre, and controlled-released fertilizer. Product may vary slightly from region to region.