Our Best Fall Lawn Care Tips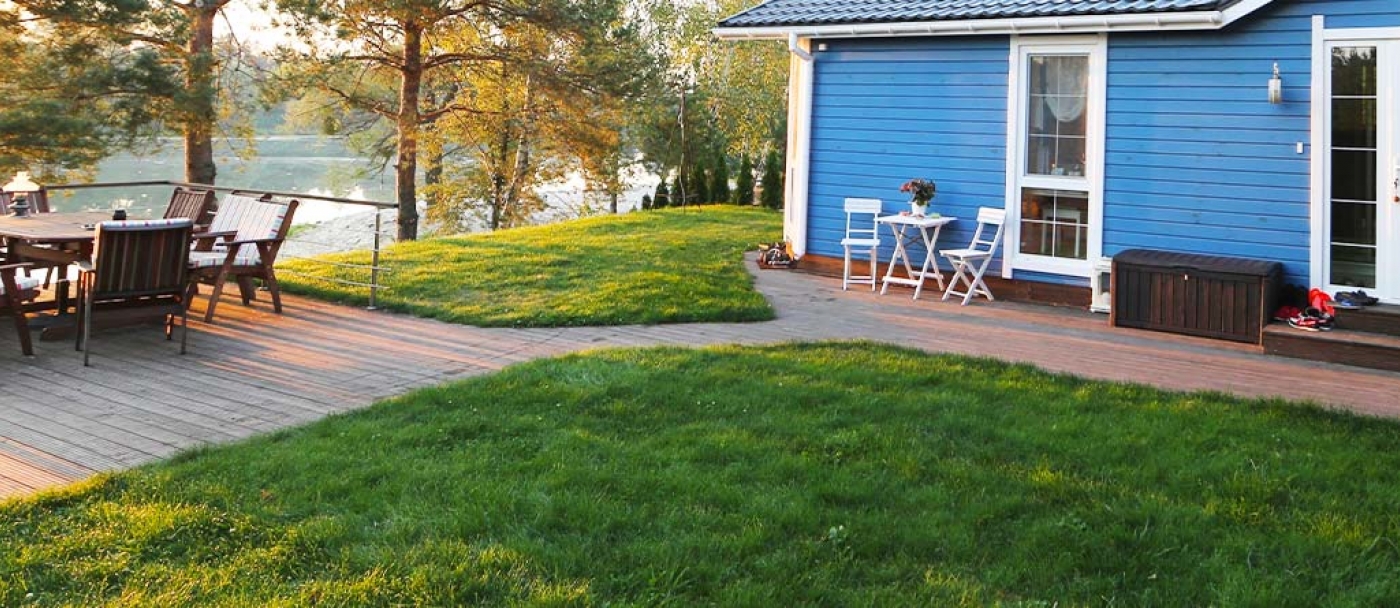 Lawn care tends to fall by the wayside when summer winds down, but don't stop quite yet. Canadian lawns love the fall weather and will continue to grow well into late October or early November. September and early October is a nice time to take care of some maintenance.
Wondering what you can do to help your lawn in autumn?
Here are a few tips. 
Mowing
Continue to mow regularly but drop the mower's blade slightly for the last two mowings. Sometimes, if the grass is left too high, there are more opportunities for winter and early spring diseases to flourish. 
Also, high grass in the winter helps field mice and other rodents to shelter. Summer lawns should be cut at 9-10 cm, while the late fall height should be 6-7 cm.
Fertilizing
Generally, you want to keep nitrogen applications to a minimum in the fall, so use a lawn fertilizer that is formulated for fall applications. Fertilize your lawn using a slow-release, low-nitrogen lawn food such as C-I-L Fall Lawn Food 12-0-18. This way, you help your lawn build up resistance for the cold winter ahead, with better growth in spring.
Alternatively, if broadleaf weeds have taken over, apply C-I-L BIO-WEED & FEED Lawn Food 9-0-0.
Aerate if needed
Fall is a good time to aerate the soil if your lawn soil has become compacted. You want to do this by early October so that the lawn has time to recuperate and fill back in. Aerators are found in rental centres (you could team up with neighbours to share the cost). 
Aerate your lawn so it can breathe, and to ensure water and nutrients can reach the roots. An aerator will neatly punch holes in the lawn. Use a hollow tine aerator so that cores are pulled out of the soil profile. These little holes are then filled back in with broken up, loose soil. Run your lawn mower over the plugs to help break them up. It may take a few weekly mowings to disperse the plugs.
Seeding
Fall is a great time to repair bare areas of the lawn. If you have sections in your lawn that have been subjected to damaging grubs, webworms or chinch bugs, now is the best time to patch and seed. Use a lawn soil or compost to cover the bare area and mix grass seed into it.
If you notice a lot of thin areas, overseed your lawn using a lawn seed created for Canadian climates. 
A product such as our Premium Sun & Shade Grass Seed gives results in as little as 7 days. Shortly after aeration is a good time for this job. 
Insect damage
If grubs are a problem, control the pests with nematodes (microscopic larvae that dine on grubs in the soil) such as Wilson GRUB OUT Nematodes. Mix the nematodes with water according to package directions, then apply the mixture with a hand-held or hose-end sprayer. Water the lawn lightly to wash the nematodes into the soil.
For more information on nematodes, visit: How to get rid of grubs | Wilson (wilsoncontrol.com)
Raking
Rake leaves as they fall and don't wait until they all come down; raking a wet, matted mess is no fun and wet leaves can also promote fungal disease. It is possible to regularly mow over the leaves to shred them and leave them, as long as they do not mat over the grass.
Lastly
Do a walk-through and pick up garden tools, lawn furniture, toys and branches before winter sets in. It is also time to do the end-of-the-season lawn mower maintenance. 
For more information: End-of-Season Lawn Mower Maintenance